About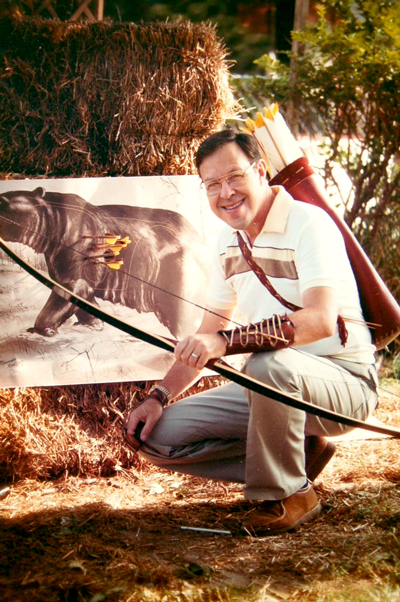 Dave Johnson Longbows began in 1982 when I made my first laminated longbow of some yew wood that I obtained from Earl Ulrich.  After experimenting with different core woods I soon discovered the wonderful properties of aromatic red cedar and it became my favorite bow wood.
Back in 1985 Bill Bagwell did a review of one of my cedar longbows in his magazine "The Longbow," and had this to say:
"What Dave sent me for review is a 66 inch, 65 pound bow with a laminated riser of Oregon Myrtle and Purpleheart.  The deep cored riser limbs are highlighted by glass inserts and the tiller and workmanship are absolutely first rate.  The finish is a flawless eight coats of enamel, hand rubbed to perfection.  This is one bow that looks like a million dollars.  It shoots even better."

"I believe that this may be the smoothest longbow that i have ever shot.  There simply isn't any hand shock.  The draw is very smooth, with no stacking, and the bow is very fast and powerful.  This bow pulled only 59 pounds at my 26 inch draw, yet it consistently shot a 574 grain cedar arrow carrying 5 1/2 inch helical fletching and howard hill broadhead over 205 yards and an occasional good release on my part would give 215  healthy yards.  This is an outstanding performance with these particular arrows and draw length.  I have a 77 pound bow in my collection by a noted bowyer that will shot the same arrow a consistent 195 yards, and it is a good bow.  The bow by Dave Johnson clearly has speed and power to burn, and is extremely smooth to draw and shoot.  Best of all, it is also stable and accurate.  This is one of those bows that throws a clean, fast arrow exactly where you point it with no wobble or kick.  It is unusual when a professional critic can find nothing to criticize, but in this instance that is precisely the case.  Not even a real magic wand will put your arrow in the gold every time, but there are some bows that simply shoot better than others.  This bow will shoot with the very best."
I am back out of retirement making my cedar bows again on a limited basis.
If you are interested in owning one that is custom made for you, give me a call or e-mail me today.
For additional information or to place an order, click here.